ATLAS has further developed its road-rail excavators and brought them to a new technical level. The smallest ATLAS model with a service weight of 20 t, the 1404 ZW, is equipped with a Deutz engine of EU stage V/US-EPA with 95 KW/130 hp. Exhaust aftertreatment system with closed diesel particulate filter and combined SCR catalytic converter ensure environmental friendliness. The Linde load-sensing hydraulics in conjunction with the ATLAS AWE 4 hydraulic management system make sensitive and millimetre-precise working and driving possible.
Rear radius variants 1,575 mm – 1,700 mm – 1,998 mm
The counterweight is integrated and available on the ATLAS 1404 ZW in the three rear radius variants mentioned. They make this two-way excavator a real short tail excavator. A low center of gravity and a transversely installed motor ensure optimal stability and stability when working on the track. The chassis with robust, specially designed excavator axles with planetary gears in all 4 wheel hubs as well as all-wheel drive, variable speed engine with powershift transmission and a double-acting travel brake valve are further developments that enable the 1404 ZW to travel even more safely on road and rail. The newly designed rigid axle now has a switchable, 100% limited-slip differential. The 1404 ZW can be driven with AWE 4 technology via track wheels or with a friction wheel. The undercarriage can be adapted to any rail system worldwide.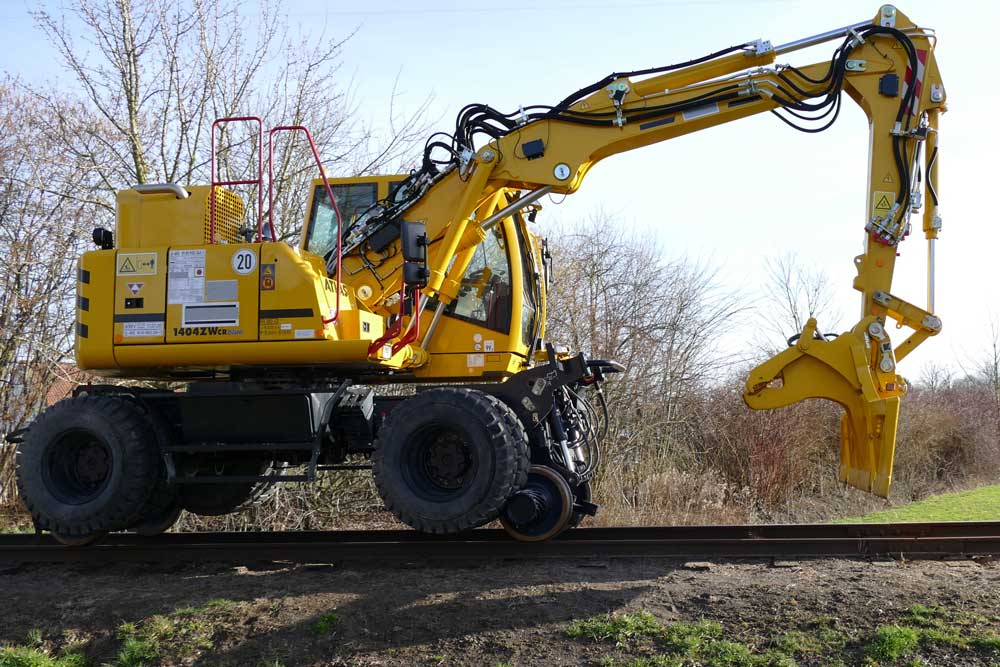 Safety also in detail – variable use
The computer-assisted slewing limitation, which first reduces the upper carriage speed when the end point is reached and then switches it off, does not even allow damage to signalling systems etc. to occur. Electronic lift height limitation eliminates the risk of the excavator arm touching the contact wires above it. The system detects when an attachment is mounted and adjusts the programmed working height accordingly. The newly developed quickcoupler control can be adjusted to any quickcoupler worldwide. There are 16 memory locations for tool control.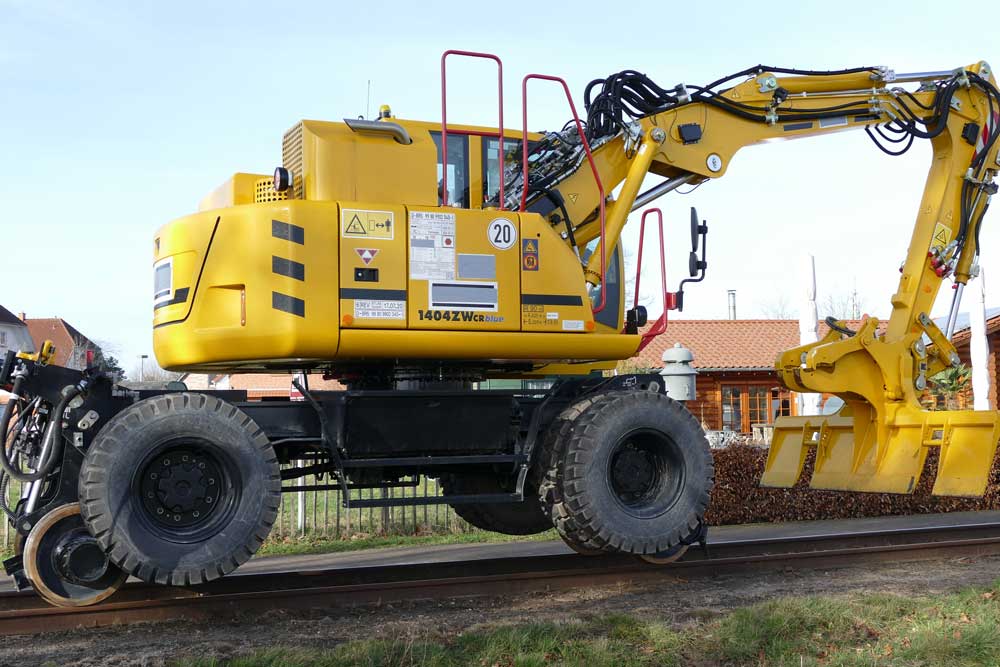 Relieve the driver
The double cab offers the driver the very best visibility. The rear and side areas are monitored with a camera and monitor. The Actimo Evolution super seat from Grammer allows so many individual adjustment nuances that you really relieve your back with its support. Other features such as the new controls, ergonomics or air conditioning have also been further developed and raise the 1404 ZW to a higher level.
Character: 2.432
Photo: The new ATLAS 1404 ZW road-rail excavator. Here in use on a narrow-gauge line and with friction wheel drive.
Information: Press contact:
ATLAS GmbH Teubert Kommunikation
Atlasstraße 6 Im Krummen Ort 6
277777 Ganderkesee/Germany 28870 Fischerhude
Tel: 04222 9540 Tel: 04293 – 78 94 890
Fax: 04222 954 220 Fax: 04293 – 78 94 891
E-Mail: info@atlasgmbh.com E-Mail: info@teubert-kommunikation.de
www.atlasgmbh.com www.teubert-kommunikation.de