ATLAS loading cranes are slim, fast and safe and equipped as you wish.
For example with the electronic safety system ACM, a support distance measurement, radio remote control or simply, without any electrical support. With a range of 3.70 m to 22 m with load capacities from 0.99 t to 13 t, special designs for building materials, logistics, loading work, lifting work cages or special types, they have one thing in common: the well thought-out and practical quality.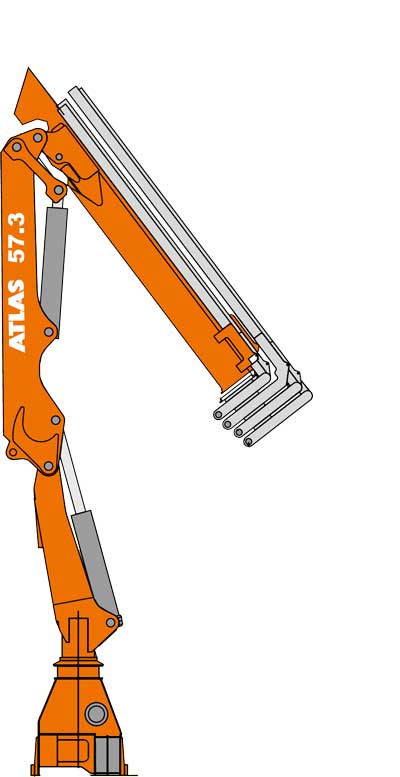 Light loader cranes$
30-90 KNm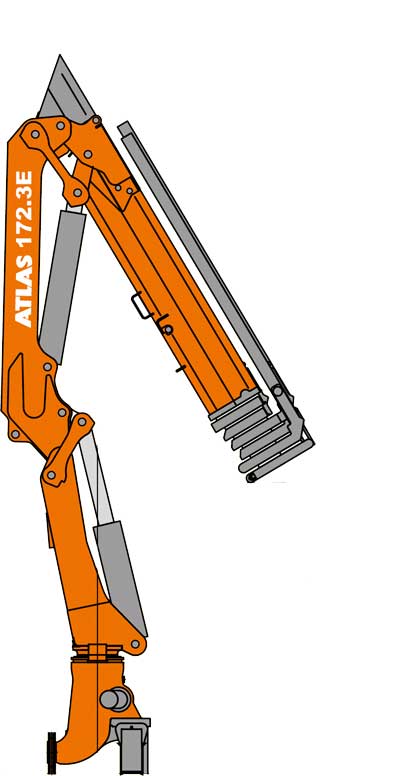 Medium loader cranes$
100-205 KNm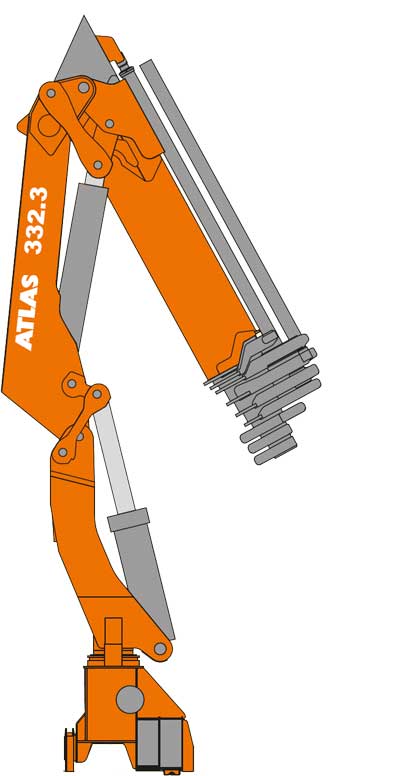 Heavy loader cranes $
210-570 KNm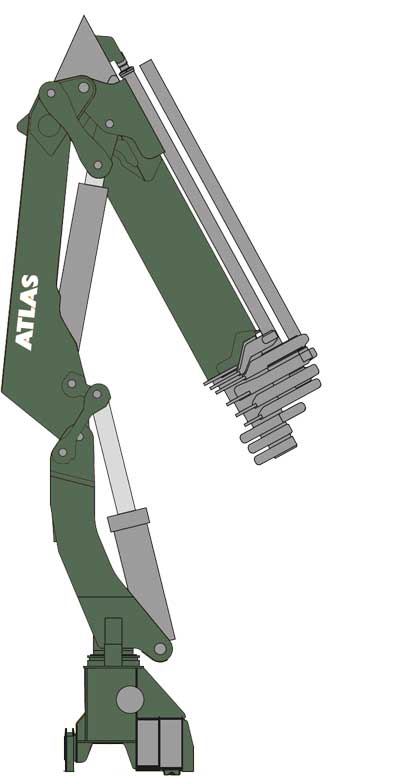 Military loader cranes$
12-600 KNm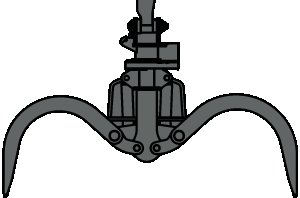 ACM – security under control
The ACM (Atlas Crane Management) is the reliable central element for controlling the Atlas loading cranes. This allows the driver to concentrate fully on his work while the ACM monitors the safety of the operation. The complete control of the system takes place in real time for a trouble-free operation of the overload protection, emergency shutdown and other safety-relevant devices.
CS cranes – simple and strong
CS cranes are reduced to the essentials: pure lifting. The devices work without any electrical control or components – an advantage in terms of price and maintenance effort. The overload protection is purely hydraulic. It is specially designed for the non-European market and is manufactured according to the DIN 15018 guideline. These are the ideal standard cranes for everyday use.
LM + – The plus in performance
If necessary, the lifting torque can be increased by approx. 18% by switching on the LM + while reducing the working speed at the same time. This means that even a higher load can be safely transported with the maximum possible range without exceeding the key data on safety and statics.
E-Series – Excellent technology for more productivity
E-series cranes are equipped with a comprehensive safety and comfort package so that you can work more efficiently and the focus is on the result instead of the operation. The E-Series has already proven its quality as a reliable support worldwide in many thousands of hours of use.
Our ATLAS RC cranes are based on the ATLAS E cranes, but without an automatic load-torque increase (eLM +).
Our ATLAS N cranes are based on the principle of the ATLAS CS cranes and are equipped with a radio remote control
Radio remote control versions
Radio remote controls provide the operator with the highest level of safety when controlling loading cranes. From a large number of designs and models, the operator can select the most suitable model for precise, sensitive and efficient work.
Satisfied customers of our loading cranes
Veolia Umweltservice Nord Ost
Veolia Umweltservice Ost GmbH& Co. KG
Strabag Rail Gleisbau GmbH
WASSER UND BODENVERBAND RHIN-HAVELLUCH
"PKP CARGO Centrum Logistyczne Małaszewicze" sp. z o.o.
Unterhaltungsverband Helme
Wiebe Holding GmbH & Co. KG
Unterhaltungsverband Untere Oste
H. F. Wiebe GmbH & Co. KG
EMS Gleisbau GmbH & Co. (KG)
Zweckverband d. Wasserversorgungsgruppe Laber Naab
Unterhaltungsverband Hunte
Steinbrecher GmbH, Martin
Zweckverband Kommunalservice Nord-West
Wasser- u. Schifffahrtsamt Emden
Eiffage Infra-Nordwest GmbH
ALBA Metall Süd Rhein-Main GmbH
Unterhaltungsverband Jeetze
BIC (Brachen Informations Center)