30 Atlas 140W blue wheeled excavators with 15 t operating weight were successively delivered to the German Federal Agency for Technical Relief. Atlas participated in and won a tender with extensive content on this project. Dr Hans-Ingo Schliewinski, State Representative of THW in North Rhine-Westphalia, took delivery of the first five Atlas mobile excavators. They will be used in Dessau, Essen, Bünde, Coburg and Bergisch-Gladbach. Staff from the THW organisations there had come to the Atlas machine factory in Ganderkesee.
80,000 THW volunteers
The history of the German Federal Agency for Technical Relief (THW), which is subordinate to the Federal Ministry of the Interior, began in 1950. Meanwhile, about 80,000 volunteers in 668 local associations, 66 regional offices, eight state associations, two training centres and a THW management provide technical support in emergencies such as floods, storm damage etc. During an intensive briefing, the volunteers got to know and use the modern mobile excavators.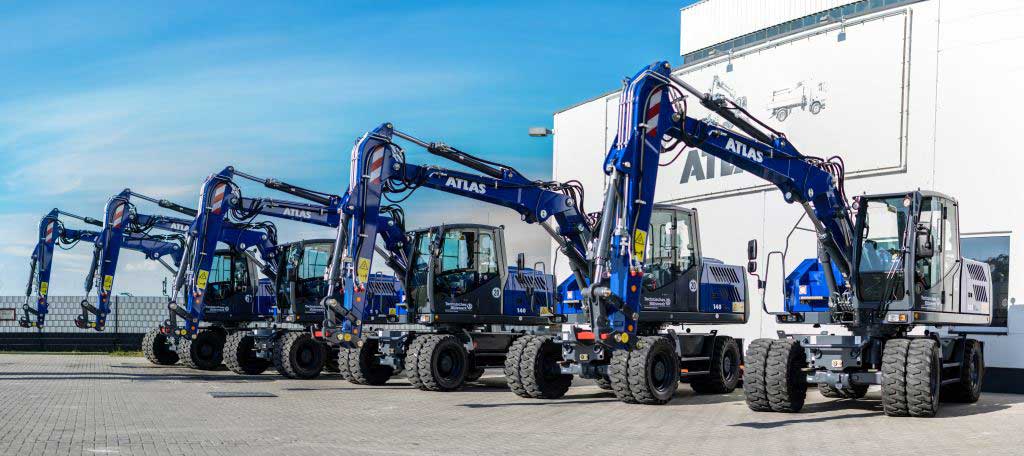 With special equipment
The Atlas 140W blue wheeled excavator is equipped with a 4 l capacity, 90 KW/121 hp engine with AdBlue injection. The AWE-5 hydraulic system can operate in three pre-programmed modes, among others. All in all, as the THW workers also discovered, this makes extremely sensitive and independent control of the attachments and the boom possible. The spacious driver's cabin also aroused great enthusiasm among the THW members. Not only the ergonomics, but also the available space and the excellent all-round visibility were pleasing. The same applies to the air conditioning system with climate control. Of course, the Atlas mobile excavators also include some equipment specially attached for THW. For example, two breathing apparatuses are integrated and a socket for charging the battery is mounted. There is a signal system in blue and yellow with a siren. The headlights are configured according to special ideas and a trailer coupling is available. Also flag holders, which are necessary when THW works in columns or different units during operations and this has to be signalled with different flags.
A good help for sure
There was a good atmosphere, as there is among technicians who enjoy good machines, on the day of the instruction and handover. And after the necessary technical knowledge had been imparted, the THW member loaded the Atlas mobile excavators onto their transport trucks and drove to their home sites. The initiative for this large excavator project, with the support of the factory in Ganderkesee, lay with the Atlas dealer Michels from Geldern in North Rhine-Westphalia. Founded in 1950, the family business is now run in the second generation by Joachim and Rolf Michels. In the meantime, 110 employees work at three locations. They serve the customers in sales as well as in rental and service, whereby the consultation that takes place beforehand is an important area. The Atlas 140W wheeled excavators are equipped for high flexibility, i.e. they have an adjustable boom and, thanks to the outstanding Atlas design, high manoeuvrability and a wide range of applications. This includes, for example, a crawling gear with a speed of 1 km/h and a maximum speed of 20 km/h. The climbing ability of up to 60 % is impressive and the additionally mounted trailer coupling makes it possible to effectively implement the tractive force of 76 kN. From a technical point of view, Dr Schliewinski is very pleased to now be able to work with these Atlas wheeled excavators. Under the aspect of disaster relief, one naturally hopes that as little as possible may happen. But if it does, these Atlas mobile excavators will certainly be a good help.
Character: 3,773
Photo 1
At the handover of the first five Atlas 140W blue wheeled excavators:
f. l. Wolfgang John, CFO; Frank Lueken, Director Special Projects; Dr. Hans-Ingo Schliewinski, State Representative THW North Rhine-Westphalia; Britta Frey, Managing Director SPS; Carsten Kiel, Product Manager Excavator (All company ATLAS except Dr. Schliewinski)