"For us, it is a great advantage to be able to drive our 23.8-tonne excavator from construction site to construction site as a construction machine with a road permit. We don't need a class 2 driving licence or a low-loader," says Reiner Övermöhle, Managing Director of Övermöhle Recycling GmbH from Kettenkamp in the northern district of Osnabrück. The ATLAS 220W blue is a 23.8 t wheeled excavator with a 129kW/175 hp EU Stage V engine. For road registration, the excavator was designed to keep the weight distribution on each axle below 12t. This means that it has the prerequisites for road approval. And it is a real one-off. Designed and manufactured exactly according to the customer's wishes.
11 m adjustable boom with road approval
The adjustable jib has a reach of up to 11 m. You can lift and move up to 10 t with it. The sensitive hydraulics make precise control possible. Three operating modes, proportional gripper and gripper rotation function as well as three further circuits for additional consumers make the 220W a versatile working machine. With primary and secondary protection against overload as well as pipe rupture protection for lifting and adjustment cylinders, it is also a safe machine to operate. Another advantage is the constructive coherence of the excavator. The low centre of gravity and the precisely coordinated design also make the ATLAS excavator profitable from an economic point of view because it has low wear.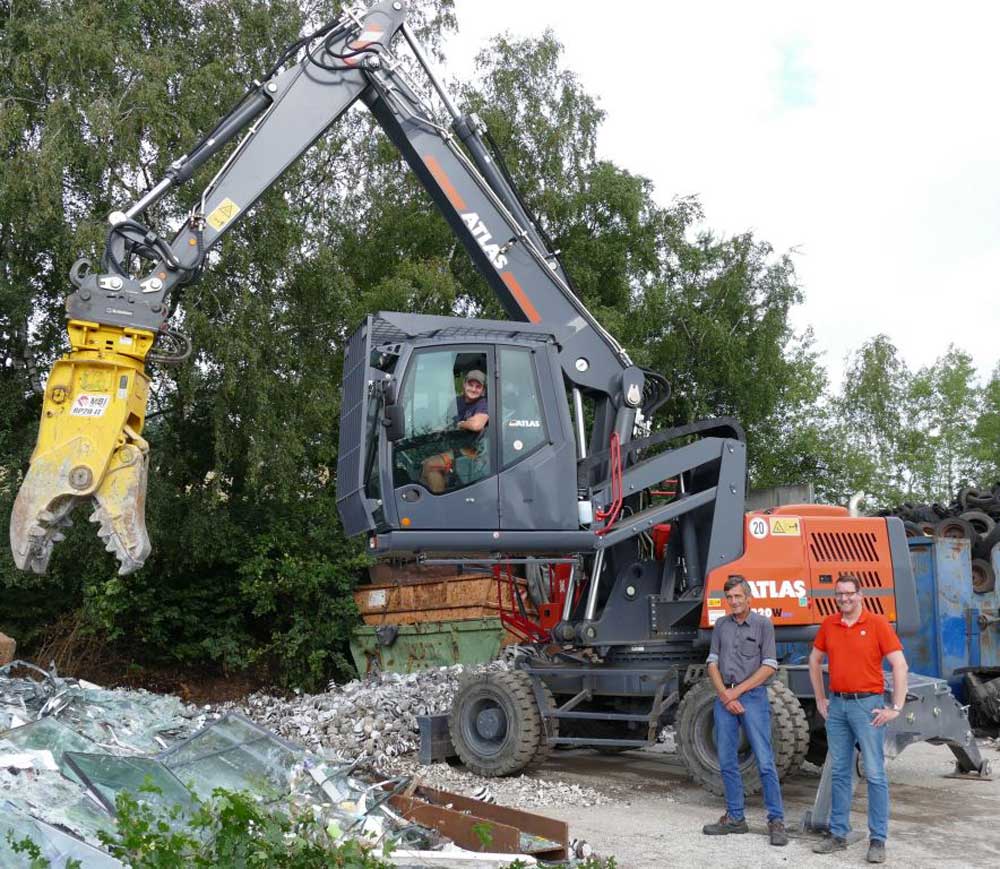 Equipped with elevating cabin
The driver's workplace in the 220W blue is a good prerequisite for concentrated work. Plenty of space, automatic climate control, stone guard grille, comfort seat, rear space monitoring and side camera on the right help the driver to work with focus and a full overview at all times. The additional LED lighting also brings safety in use. This ATLAS wheeled excavator is equipped with an elevating cab to provide the best possible view of the working area during all tasks. You can raise it 2,700 mm. This gives the driver the best overview.
.
Demolition and recycling
Övermöhle Recycling GmbH is a specialist waste disposal company and recycles waste paper, scrap metal, metals, foils, wood and other materials. The company also has a demolition division. Founded in 1975, it is now run by the second generation and the third is already in the business. 45 employees are active in the company. The operational area is about 50 km around the Kettenkamp site. A machine park with a total of over 30 trucks, excavators, wheel loaders, etc. is necessary to be able to process all orders quickly. ATLAS has been part of this with its excavators for about 25 years. Four different ATLAS excavators from 18 – 27 t in weight are currently in use. The latest, the 23.8-tonne 220W blue, has been part of this for three months. Numerous attachments such as sorting grabs, screening buckets, concrete shears, scrap shears and various buckets are also available for the excavators. Quick hitch and rotary motor make it perfect to use. The advantage of quick couplers and attachments with identical systems is particularly evident in special tasks, such as crushing porcelain insulators with a concrete shear, then loading a truck with timber and finally sorting construction waste.
Built exactly according to customer requirements
The company is looked after by the regional ATLAS dealer Werner Seemann GmbH from Ostrhauderfehn. When it comes to custom-made products, the ATLAS factory in Ganderkesee is also involved, as in the case of the 220W blue, where Frank Lueken, who is responsible for special projects at ATLAS, was on site. He analysed the exact requirements and had the excavator built that exactly matched the tasks.
Characters: 3,396
Photo 1: The ATLAS 220W blue with lift cabin crushes insulators precisely and powerfully with a concrete shear.
Photo 2: Chris Övermöhle (Managing Director), Reiner Övermöhle (Managing Director) and Operations Manager Arnd Bremer; all Övermöhle Recycling GmbH.
Information: Press contact:
ATLAS GmbH Teubert Kommunikation
Atlasstraße 6 Im Krummen Ort 6
277777 Ganderkesee/Germany 28870 Fischerhude
Tel: 04222 9540 Tel: 04293 – 78 94 890
Fax: 04222 954 220 Fax: 04293 – 78 94 891
E-Mail: info@atlasgmbh.com E-Mail: info@teubert-kommunikation.de
www.atlasgmbh.com www.teubert-kommunikation.de