Four ATLAS mobile excavators 175 WSR in team operation at a school construction in Fröttmaning – the short-tail mobile excavators easily master the tight construction sites – even heavy loads are lifted with ease
No matter where you go on the vast Fröttmaning construction site, you'll find an ATLAS 175 WSR. Wadle Bauunternehmung GmbH from Essenbach in Lower Bavaria is laying the drainage system here for the new construction of a primary school and associated sports facilities. "We have a very tight schedule. In order to keep to it, we are working with four very reliable and high-performance ATLAS excavators," says Michael Lechner, the supervising foreman.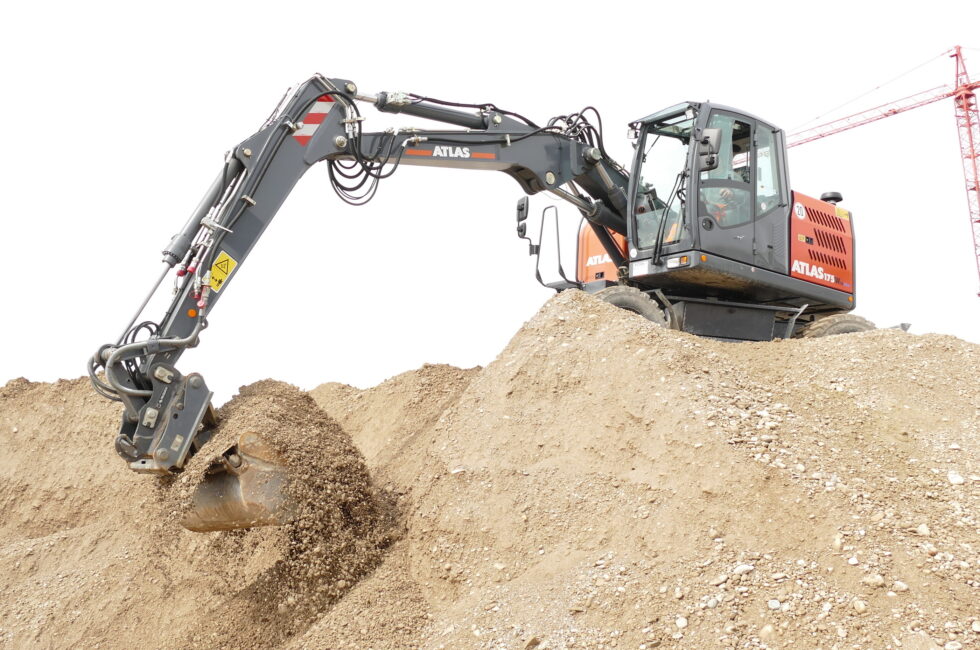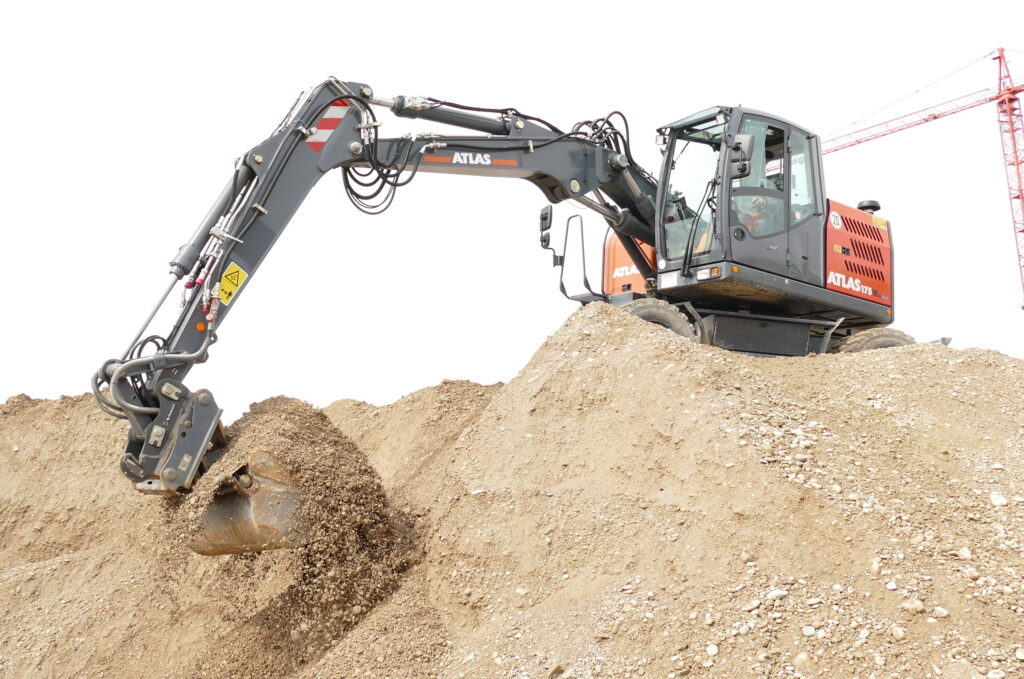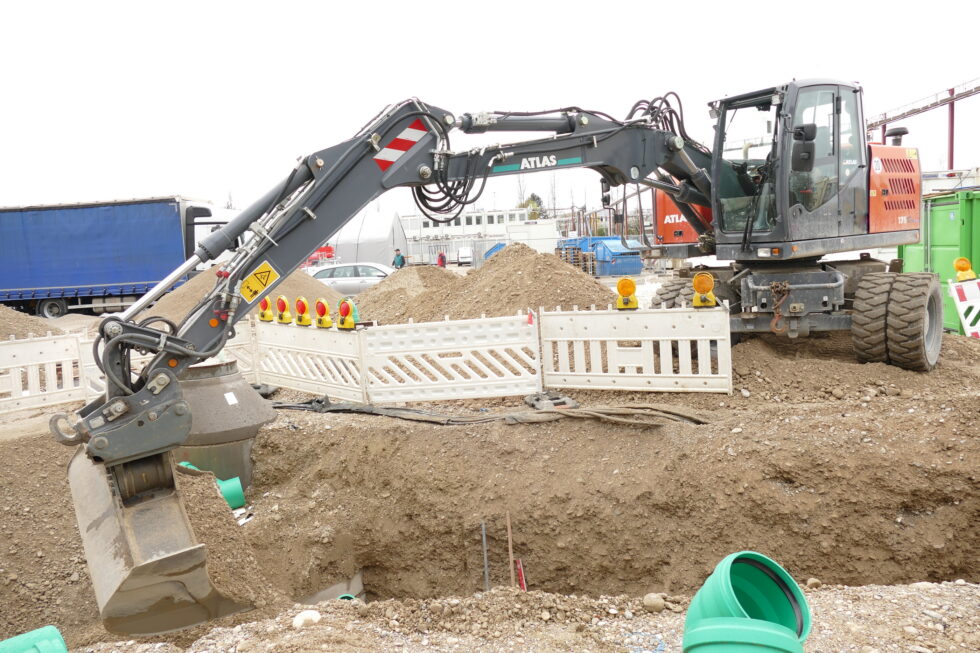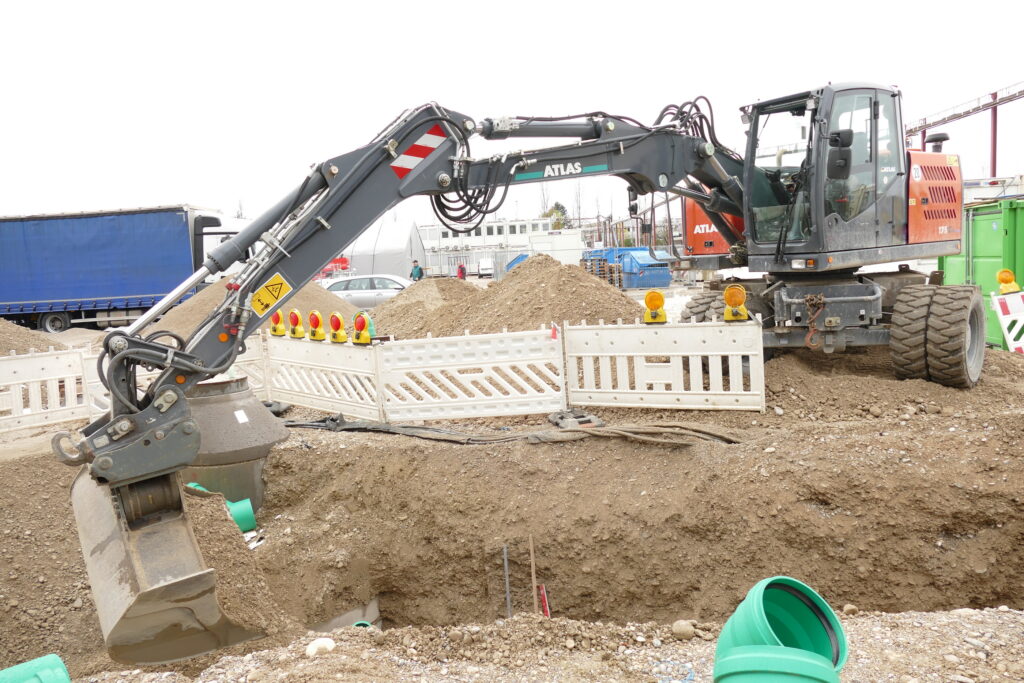 Large-scale building project in Munich
The former Bayern-Kaserne barracks in Freimann is, next to Freiham, the largest and most significant housing development project for Munich in the coming years. The area covers a total of about 60 hectares (the Theresienwiese has an area of 42 hectares).
The site will be home to 5,500 flats, with an 80-metre-high residential tower becoming the symbol of the district. In addition to the residential development, the Bayern-Kaserne will be home to a number of day-care centres, two school locations with a grammar school, two primary schools and a specialist school, as well as sports facilities, numerous social institutions, a branch of the Volkshochschule adult education facility and a large grocery store.
Small, agile and strong as a bear – the ATLAS 175 WSR
The ATLAS short-tail mobile excavator 175 WSR features a service weight of 18,000 kg and is equipped with an EU Stage V engine with 115 kW/156 hp output. The undercarriage length is just four metres, the rear swing radius 1.72 m. The counterweight of 5.3 t is integrated into the superstructure and does not overhang the undercarriage. In the truest sense of the word, the 175 WSR is a power heavyweight with small external dimensions. This is why four of them are capable of working very well together on this construction site. These mobile excavators are ideal, especially when it comes to laying heavy pipes, something that needs to be done as quickly as possible in succession. Each one can lift over 10 t.
Super all-round view
The driver's cab boasts a host of practical details, such as a rear-view and side camera on the right, air-conditioning, thermal insulation glazing and all-round vision like that of a lighthouse. There is an extensive list of optional equipment, plus special solutions are always possible with ATLAS. For instance, customers can also work using joystick steering if they wish. The excavator functions can be actuated digitally using the selector button and the display. There is also an operating panel on which direct commands can be issued at the touch of a button. The high-contrast display is equally user-friendly. There are also no significant visibility restrictions when the sun is shining. The upper carriage is locked in place with a simple push of a button. The "T" button to do so can be found on the left side of the driver's cab, close to the joystick. The hydraulic system has a flow rate of 260 l per minute at a maximum operating pressure of 350 bar. It is also very quiet in the cab thanks to a noise level of 70dB(A). Elements that have proven to be extremely useful in practice include a hydraulic quick coupler, a rotary motor that pivots attachments 55° to the left and right, plus a rotator that can rotate 360° continuously. "We have been using ATLAS excavators at Wadle for over 25 years. They have proven to be both high-performance and, most importantly, reliable. We have already clocked up as many as 14,000 operating hours with one ATLAS," says Lechner.
Special construction areas
Founded in 1898, Wadle Bauunternehmung GmbH has developed through various phases into a company with an interesting portfolio of services. In addition to civil engineering, structural engineering and road construction, the company is also a nationwide provider of specialist civil engineering projects, flush drilling technology and tunnelling technology. There are now 350 employees working for Wadle. It goes without saying that solid construction with the best technology is a given here. This, of course, includes the ATLAS 175 WSR mobile excavators.
Durability is also economical
The construction company is supported by the regional ATLAS dealer, the Kern GmbH. Kern has been a competent point of contact for construction machinery technology since 1983. There are currently around 120 employees working at the Steinach, Erlangen and Munich sites. A great amount of emphasis is placed on providing advice and, above all, fast service and repair. The workshop facilities constitute an important brand feature for Kern. Vehicle construction or excavator conversions represent a major field for customers. Kern supplies diverse solutions and, if necessary, complex ones. Reliability is also an important factor here. And you can count on ATLAS excavators in this case too. Like the 175 WSR mobile excavators, designed to be not only sturdy and durable, but also economical, like all ATLAS machines, as Michael Lechner is well aware from his 25 years of experience with ATLAS.
Characters: 4.180
Photos: The ATLAS 175 W short-tail mobile excavator takes up little space, is suitable for many applications and is very powerful.