"This little ATLAS is a really big one. It has power in all situations and for all tasks," says Sven Rippen, the driver of this ATLAS 175 WSR short-tail excavator. It is part of the machinery of Udo Hillmann GmbH from Berne, not far from Oldenburg. This is a wheeled excavator short tail with 18,000 kg operating weight and with an EU stage V engine with 115 kW/156 hp output. The undercarriage length is just four metres, the rear swing radius 1.72 m. The counterweight of 5.3 t is integrated into the superstructure and does not overhang the undercarriage. The 175 WSR is literally a very compact power heavyweight. Rippen also confirms this: "I can do things with it on all construction sites that are not possible with other excavators. The ATLAS is so compact that I can use gaps to work in, which would otherwise not be possible. And yet it has an incredible amount of power. But you don't hear much about her. The exterior sound level is 97 dB(A), the sound level in the driver's cab is 72 dB(A) and one is surprised how quiet these values are in real life.
Precise hydraulics
The driver's cab has many practical details, for example a rear and side camera on the right, automatic air conditioning, heat protection glazing and all-round visibility like a lighthouse. There is an extensive list of optional equipment and special solutions are always possible with ATLAS. It is operated via joystick steering. The hydraulic system has a flow rate of 260 l per minute at a maximum operating pressure of 350 bar. "The hydraulics are fantastic. I can control the excavator almost to the millimetre and all at high speed," says Rippen. If you want to get dizzy, you can turn the upper carriage 360° nine times per minute.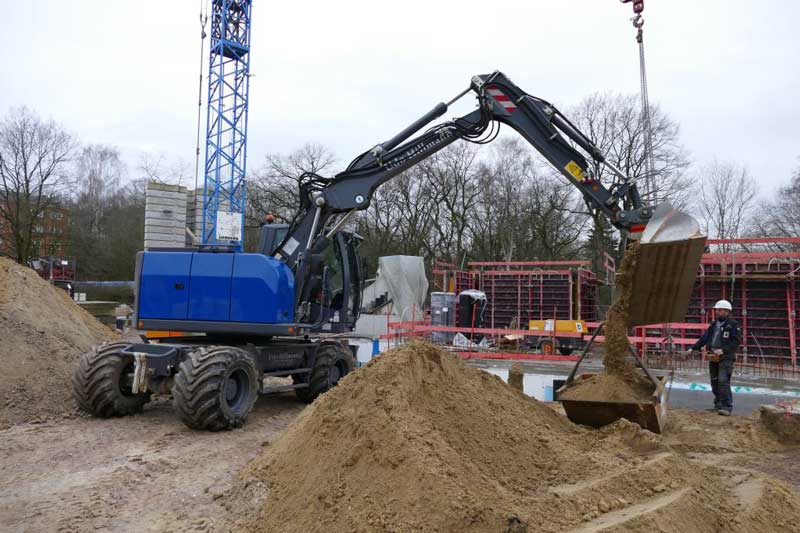 27 m Investment
The Atlas 175 WSR is in use in Ganderkesee near Oldenburg for the construction of a new building for the child and youth psychiatry department of the Wichernstift. Here, € 27 million will be invested in a new 4,000 m² building. The company Udo Hillmann GmbH from Berne is one of the contractors working here. The company Udo Hillmann GmbH from Berne is one of the contractors working here. For these diverse tasks, you also need excavators that can be used in a variety of ways. This ATLAS 175 WSR is not the first ATLAS to be part of Hillmann's fleet. Of course, the technical and professional care of a construction machine is also of great importance. This is provided by the regional ATLAS dealer Seemann. It is an experienced company with three branches in the north-west of Germany that provides Udo Hillmann GmbH with competent support.
Difficult things become natural
What immediately catches the eye when you see this 175 WSR short tail excavator are the huge tyres that give it a secure footing. Four 710/40 -22.5 24 PR tyres (other variants are of course available) not only ensure that the ATLAS 175 WSR stands securely, but also that it can move on surfaces that actually seem more suitable for tracked excavators. What has proven extraordinarily useful in practice is the additional equipment. For example, this ATLAS 175 WSR has a rotary motor that allows it to swivel 60° to the right and left. This option has proven to be more advantageous in many situations – be it when excavating under surfaces or objects or when filling vessels and containers when space is tight. But it is still amazing how much power this little excavator develops. Whether it's excavating trenches in heavy civil engineering or lifting heavy concrete slabs in road and motorway construction. Nothing knocks the little power machine over and nothing cannot be moved or transported. The ATLAS 175 WSR is a real asset for Hillmann in the field.
Characters: 3,645
Photo: The ATLAS short-tail mobile excavator 175 WSR can work in the tightest of spaces. Powerful and precise.